This time we would like to present you some new, useful and nicely designed applications for Android powered smart devices. We handpicked these apps by gathering the feedback from our blog readers, friends, colleagues and almighty Internet. Android applications in this list range from powerful music sharing apps to unique and multilayer enabled games. Enjoy!
Bloom.fm is a mobile music application. In addition to being very nicely and minimalisticly designed, this app allows you to listen online songs, download them to your smart mobile device and even swap these songs with your friends who also use Bloom.fm app on they Android mobile phone. If you are into online music give it a try!
You will like this one if you are into creating your own music and mashing up existing songs and beats. Music Maker Jam is all about creating your own mixed songs and playing them via Android powered smart devices. Works best on Android tablets!
Official Microsoft application for Android platform, which brings lots of energy, specially if you are big fan of Xbox console. This app lets you access XBox Music Pass on all Windows powered devices. Grab this free application if you happen to run Microsoft powered media platforms at home.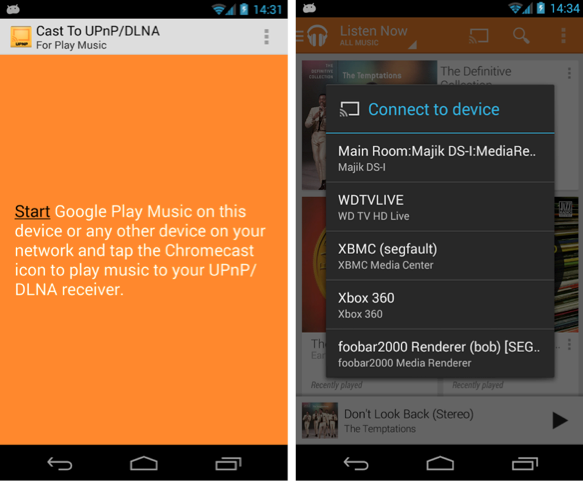 Now once you have your smart mobile device loaded with music and sounds, Cast to UPnP will allow you to share this music with your home sound system without much hassle. Its as simple as finding all the available UPnP systems (XBox, PS3, PC's and bunch of others) and clicking the button to connect. Enjoy the good sound!
Some of its users do call this app – the best notes application available. And now Simplenote is alive on Android platform as well. Well, it does what it says on the tin – allows you to simply take and manage everyday notes. Its minimalistic, simple to use and has easy steps for creating, storing and managing notes.
Yet another mobile email client. But this one is all built around Zero Inbox idea. If you are not familiar with Zero Index, well it's a simple philosophy to keep your incoming email inbox folder with zero emails in it or in other words empty. It this is something you are trying to achieve give Evonmail a try. It would be nice to have zero emails in inbox, right?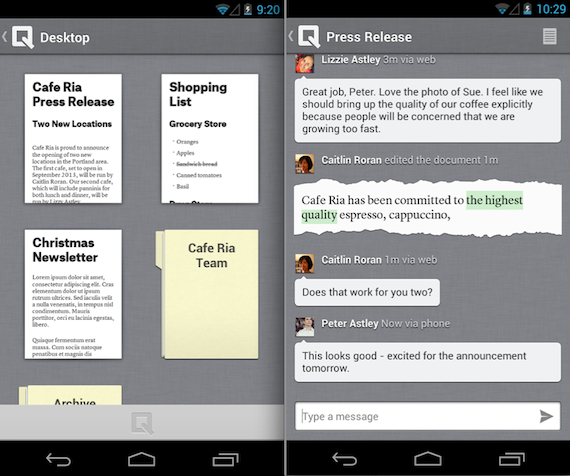 Quip is a word processor for mobile devices. It enables social element to simple document editing. Each document has a chat for its creators / editors, notifications about the progress and even read receipts to show who has seen you document. Even if the app itself is only at preview version, the idea is really nice.
In this post we talked about music, notes, email and documents. Now is the time for few games. Cats vs Dragons game might surely fit into the previous lists of Android powered games we have published some time ago. Its about helping cute kittens to fight all sorts of dragons and to capture the castle in the process. Highly addictive game I have to say!
You get it from the name. This game is about helping your hero run even if he transforms into somewhat unknown creatures. And save the World in the process! The graphics and scenes in this game are unique and game itself is far away from being boring.
Enter the beautifully designed World full of monsters and magic. Your hero is a black swordsman who has to defeat all sorts of magical enemies. If you do enjoy games with great design elements, this one if definitely worth to try.
This list of best mobile applications for Android platform is provided to you by Pokerstars app folks. Thanks