Using a social media presence to improve marketshare for your online business is a great idea. Sure, you can start with Facebook, Twitter, and Tumblr, but that's just the beginning of what you can do. You want to expand from friends and family to reach people all over your industry and all over the world.
Start With Video Marketing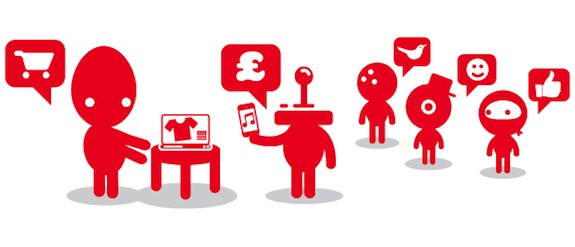 Using YouTube, and viral videos in general, will help to market your online business because visitors are already online when they find your viral videos. We tend to think of viral videos as videos of people doing stupid things. However, a viral video can just be a really silly marketing pitch that is just silly and not embarrassing.
Placing the video on YouTube and other video sharing sites will allow millions of people a chance to see the video. They, in turn, may share it on Facebook and other sites, but you should think big so that lots of people will see the video.
As a final reminder with videos, the best advice is to be real. Be yourself and expose your lifestyle. With a personal site of mine I used video to portray my digital nomad lifestyle to people. It included footage of my adventures and I really opened up to the people.
The result? It eclipsed over 30,000 YouTube views.
Be transparent and real.

Use Lesser Known Sites
LinkedIn is a good place to set up an account. It is designed for professionals who want to network with people in their industry. While it may be hard to find people specifically in your industry on other sites, you will find that searching by industry and even by company on LinkedIn is easy. You can send invitations to people to come visit your store, share ideas, or cross market with their own customers. You have to do a little legwork, but it's worth it.
Use News Reading Sites As Well
Having an account on Reddit or StumbleUpon is great for two reasons.
1. You can list news stories about your business on the site for others to consume. This makes it easy for people to learn about your business and know who you are.
2. You can use your account to comment on news items and make a name for your business. The interaction between you and other people on these news sites gives you a chance to show people more than just an online store. When people know who you really are, they are more likely to patronize your online store.
Vines Work Great, Too
Vines are the newest form of social media videos. Not only can you easily make a six-second in about six seconds, but many people only want to see your video for six seconds. When you're making such short videos it costs you practically nothing to make them, people can share them, these videos can also go viral, and you can benefit from the ability to make a ton of them very, very quickly.
Note: You can also use video semantic markup to have Google show a video clip in the search engine results. We used this for our trophy review site and it resulted in higher click-thru-rates. An easy win that most online businesses are not utilizing.
When you're trying to leverage social media to improve your online business, make sure you are all over the "online" part of the marketing. When people are already online, leading them to your website is easy, but you have to be everywhere. Use videos, lesser known social media sites, and news reading sites to make sure people can find you and get to know your business.
Jeremy is a tech marketer at TopTenReviews. He lives outside Salt Lake City, Utah.