Maintaining and checking our health is a quite difficult and often neglected task in today's rushing world. Here are 10 apps for your iPhone that can help you keep an active lifestyle and monitor your health.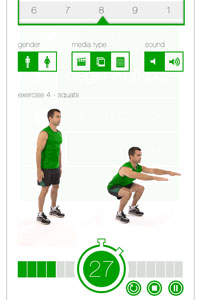 This research-backed app is a simple but effective workout program. One of the best features of the app is that all the exercises are simple to perform, don't require any accessories or equipment, so basically they can be performed anywhere without the need to spend extra time going to the gym.
The app has video and audio guides with a modern design and features a high-intensity training that increases your metabolism as it is equivalent of working out for over an hour.  There is also a weight tracker and activity calendar included.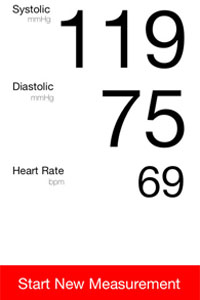 Monitoring your blood pressure was never so easy. With the help of this app you can now monitor your heart rate and blood pressure only using your smartphone without the need of other medical equipment.
It works by placing you phone in a horizontal position while gently pushing the phone against your abdomen (near your heart). Measurements take only about 50 seconds and give you systolic, diastolic and heart rate measures. We have to add however that the results may vary and sometimes users can get inaccurate measurements but the software is constantly updated and improved.
Sleeping is made of a series of phases, ranging from light sleep to deep sleep. Ideally it is important that you wake up when you are in a "light sleep" phase, so as a result you will feel fresh and full of energy.
This alarm clock app is built to wake you up when you are in the lightest sleep phase. It work with the help of the built-in accelerometer of you iPhone, so that it monitors your movements in the bed, movements that are a tale-tale sign of the phase you are in. It also features sleep statistics, a great variety of alarm melodies, snooze option so if you are preoccupied with your sleeping habits, you should definitely use this app.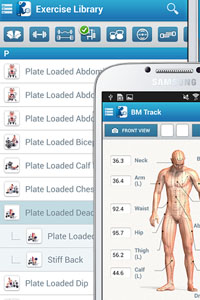 Fitness buddy is a great iPhone app for workout. It features HD videos that show you how to do certain exercises for certain body parts like the lower body, chest or arms. There are also more than 1700 exercises that cover major equipment like barbell, dumbbells, kettlebells, resistance bands or stability balls.
All in all, this app makes it easy for you to track your workouts, to quickly find your favorite exercises or to track your body weight and metrics. You can also do routines specific goals like: build big chest, lose weight and many more.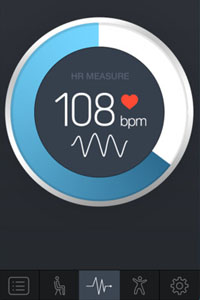 Less than 10 seconds – that's the time it takes for this iPhone app to measure your heart rate and pulse. This award winning application monitors your heart with the help of you phone's built in flash.
An interesting feature of the app beside the ability to measure your heart rate, store it and show your pulse in a waveform graph, is the standup test for fatigue and fitness.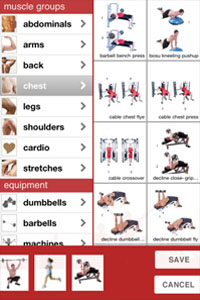 This iPhone app uses text instruction, pictures and videos for each of the exercises stored in the database making workout understanding easy and effortless.
There are hundreds of unique exercises, some do require equipment while others like cardio or stretching exercises don't require accessories at all. Being fit is definitely beneficial for your health as well as occasionally changing exercise routines so you don't get bored. This app definitely helps you out with both.
This iPhone app is designed with the goal to make you achieve better sleep. Quality sleep is essential for your health or well-being, but unfortunately usually those of us value good sleeping the most who have problems getting it. The white noise app will help you get good sleep by playing calm and relaxing music. This way the app will help you block distraction and reduce stress.
It can be also used to calm crying babies as there are more than 40 perfectly looped sounds included with other ones available for free download.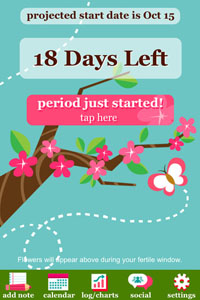 Period tracker is a cute and simple app that helps woman track their periods. It features a great variety of functions within an easy to use customizable interphase. This iPhone app can be used to log your periods and to calculate your menstrual cycle predicting the start date of the next period based on your past 3 months data.
It also can be great for those who want to conceive as it predicts ovulation and the eight day "fertile window". Alternatively it can help your natural birth control method (thermometer or calendar method) to be more effective.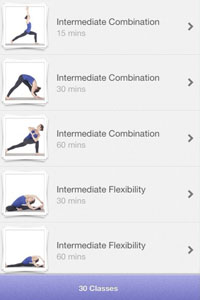 Yoga is a physical, mental and spiritual discipline that aims to transform your body and mind, being beneficial for strength, flexibility, relaxation, balance or a combination of all four. This iPhone app brings this centuries old practice and knowledge in your palms with features like ready-made yoga classes or custom made classes.
There are image illustrations and HD videos showing you a series of meditation and yoga classes ranging from 10 to 60 minutes. It is suitable for beginner, intermediate or advanced users.
You don't need to feel weird if you talk during sleep. Actually around 5% of the population talks occasionally or regularly in their sleep.
This app will not just simply record everything, it will detect sounds that are made by you or your partners so that you can have an idea of the topics you cover while you sleep or you can get proof if your partner's snoring.
Besides being practical, this app can give you reasons to entertain yourself.