More reviews on Enfew blog. This time we are going to take a close look at a very useful screen capturing application called Monosnap.
What is Monosnap?
Monosnap is a very simple to use and easy to install free screen capturing tool for multiple platforms. They have versions for Mac, Windows, iPad and even Chrome browser. The print screens you see in this post are created by Monosnap version for Mac OSX.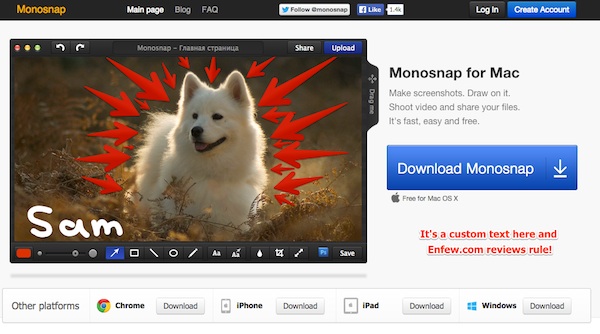 How to start?
Starting is easy. You just download version of Monosnap for your platform, install it and you are ready to go. Mac version of Monosnap installs quick icon on you top bar, you can always click it and select to capture full screen, portion of the screen or record the video (yes, this tool records a screen capture videos as well).

What else is good about it?
All bunch of things we like at Monosnap – its easy to use, doesn't cost you anything to download, can record screen sharing videos and and even make selfies!
But another additional functionality Monosnap app provides – it allows you to upload and share the print screens on cloud servers. This way you can make a print screen and instantly share it with someone whom you want to send it to.
Application supports FTP, SFTP, Amazon S3 storages as well as popular tools like Dropbox, Box.com Yandex.disk. So you can choose how do you want to share you monosnaps. Really good work by the team who made this app!
Example?
Yes, let me share you example monosnap I have created in less then 2 minutes. Its about how we write posts at Enfew.com blog