Today we want to share a review of application from our friends at Folx
What is Folx
Folx is a versatile Internet download manager solving the problem of convenient downloading of multiple files and managing those downloads on your computer so that you can always easily organize and find any of them. It was just recently updated to version 3.0 with lots of new options and revamped interface.
What is new in Folx 3.0
As just said, Folx 3.0 has even greater interface than before, and it is simple and clear for everyone.
Folx 3.0 offers you various ways of adding files to it for downloading:
# Simply copying the download link into Folx;
# Adding the download in a download window of Folx with lots of advanced options: splitting download in threads, choosing when to start the download, assigning the download with tags according to its content, making some comments;
# Intercepting download links directly in your web browser. You can choose what file types to intercept, and what not to intercept.
Also new version of Folx offers handy file manager for easy browsing through completed downloads.
What hasn't changed is the quality of Folx and its unique tagging system. When downloading a file you can assign it with one or many tags characterizing it the best. You can sort downloaded files by tags in Folx and you can always find those on your Mac even after time goes by just by remembering any of the tags you have assigned.
Choose your Folx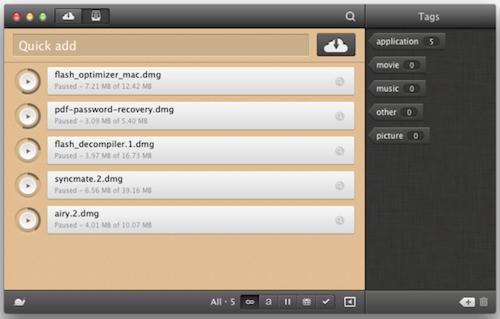 There are two editions of Folx: Free and PRO.
Free Folx offers all possible options for convenient management and sorting of the downloaded content, including smart tagging, splitting downloads in 2 threads, resuming interrupted downloads, and so on.
Folx PRO gives additional possibilities: splitting downloads in up to 10 threads for faster downloading; smart speed adjustment in either manual or automatic modes; downloads scheduler; automatic adding of downloaded files into iTunes playlists. If you ever decide to upgrade from free version to Pro use the ENFDSC code to get 20% discount.
We hope you will enjoy Folx downloader!