Description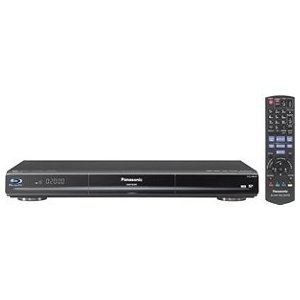 Experience orignal movie quality with the DMP-BD85 Blu-ray Disc Player. In addition, the BD85 offers 7.1ch audio decode analog output, Wi-Fi Ready connection, ultra fast booting and access to various online content with VIERA Cast.   VIERA Cast is powered up with Netflix* and Amazon Video on Demand which allows you to stream movies. You can also access YouTube, Picasa, and other Internet sites from the special VIERA Cast screen. With the Wi-Fi system, you do not need to use a LAN cable to enjoy this exciting web content. The DMP-BD85 reproduces the color signals in horizontal directions with higher resolution. Not only Full-HD movies in 1080p, but concert and documentary films saved in 1080i are now reproduced with greater details than ever before.
Reviews
Panasonic made the first standalone Blu-ray player good enough for us to recommend; however, since then the company's Blu-ray line has lagged behind that of other manufacturers. None of Panasonic's 2009 Blu-ray players support Netflix video streaming or include Wi-Fi, two features that now seem must-have as media streaming becomes a big reason why people upgrade to Blu-ray.
The Panasonic DMP-BD85 is one of the top players in Panasonic's 2010 blu-ray player lineup. It gets many improvements in speed and features compared with last year's model by including a USB Wi-Fi adapter and adding Netflix and Pandora to its VieraCast streaming content portal. As we have come to expect from Panasonic, the DMP-BD85 delivers high quality images and improved sound processing.
Specs
General:
Manufacturer: Panasonic
Part Number:DMPBD85K
Product Type Blu-ray disc player
Form Factor Tabletop
Width 16.9 in
Depth 9.8 in
Height 2.2 in
Weight 5.7 lbs
FORMAT:
BD-ROM : BD-Live 1 BONUSVIEW
BD-RE / BD-RE DL : BD-MV(BD-RE version3),JPEG
BD-R/BD-R DL :    BD-MV(BD-R version2), DivX® 2 /DivX HD
DVD-ROM : DVD Video
DVD-RAM : DVD-VR 3, JPEG, AVCHD
DVD-R/-RW/-R(DL) 4 Playback :    DVD Video, DVD-VR, AVCHD, JPEG/ MP3 (DVD-R/ DVD-R DL ), DivX® 5 /DivX HD (DVD-R/ DVD-R DL )
+R/+R(DL)/+RW 6 Playback : Video, AVCHD
CD : CD-DA
CD-R/-RW 7 : CD-DA, MP3 8, JPEG, DivX® 9 /DivX HD
SD Memory Card : AVCHD, MPEG2, JPEG
USB : MP3, JPEG, DivX® 10 /DivX HD
VIDEO:
Signal System : NTSC
PHL Reference Chroma Processor Plus 11 : Yes
High Precision 4:4:4 : Yes (Adaptive High Precision 4:4:4)
P4HD (Pixel Precision Progressive Processing for HD) : Yes
Precise Pixel Generation :  Yes
16-Level Motion Detection w/ Pixel-Based Motion Adaptive  : Yes
Diagonal Processing  : Yes
3:2/2:2 Pull-Down Progressive Processing  : Yes
i/p Conversion for 1080p 12 Playback  : Yes
Up-conversion to 1080p 13 Playback  : Yes
Video D/A Converter  : 148.5MHz/12bit
Digital Noise Reduction  : Yes (3D-NR/ Integrated NR)
1080/24p Playback 14  : Yes
Deep Color  : Yes
x.v.Color™ 15  : Yes
Picture Mode  : Yes (Normal/Soft/Fine/Cinema/User)
Picture Adjustment 16  : Yes
AUDIO:
Dolby® Digital Plus/ Dolby® TrueHD : Decode and Bitstream output 17
Dialog Enhancer : Yes
DTS™-HD Master Audio Essential/ DTS™-HD High Resolution Audio  : Decode and Bitstream output 18
Audio D/A Converter  : 192kHz/24bit
96kHz Surround 19 Re-Master  : Yes (for All Formats)
Night Surround Mode  : Yes
Dynamic Range Compression  : Yes
HDMI Jitter Purifier  : No
Digital Tube Sound  : No
High Clarity Sound  : No
CONVENIENT:
VIERA Link™ (HDAVI Control 5) 20  : Yes
Wireless System  : Yes
VIERA CAST™ 21  : Yes
Audio/JPEG Navigation Menu  : Yes
Playback Information Window  : No
INPUT/OUTPUT:
HDMI (Output)  : Yes (Support features: Deep Color , x.v.Color™ 22, High Bit rate Audio)
USB Slot (USB 2.0 High Speed) : 2 (Front, Rear)
Analog Audio Out  : 7.1ch
Component Video Out (Y, PB, PR)  : Yes
Video Out  : Yes
Digital Audio Out  : Yes (1 Optical, 1 Coaxial)
SD Memory Card Slot  : Yes
Ethernet for Network  : Yes (for BD-Live 23, VIERA CAST™ and Firmware Update)
SPECIFICATIONS:
Audio S/N  : 115dB
Dynamic Range  : 100dB
Power Source  : AC 120V, 60Hz
Power Consumption  : 26W [Approx.]
Weight (lb) (Approx.)  : 5.7
in Standby Mode  : 0.1W
in Quick Start Mode  : 8.4W
Dimensions (H x W x D)  : 2-3/16″ x 16-15/16″ x 9-13/16″