Even if many user interface design experts are using Adobe applications for creating UI element design, CorelDraw remains the software of choice for vector element design. Corel team keeps improving and adding new functionality to this suite by constantly simplifying the creation and editing of vector images. There are many great examples of user interface components made from vector graphics but not so much information where one could learn all tips and tricks for working with the world's most used vector graphics generation tool CorelDraw. To help our readers a little bit here at Enfew we have collected set of links to the best tutorials for beginning work with (and learning how to master) CorelDraw software suite. Let us know if we missed some good tuts – we will gladly update the post. Hope these will help you to become better at creating vector graphics elements for your applications.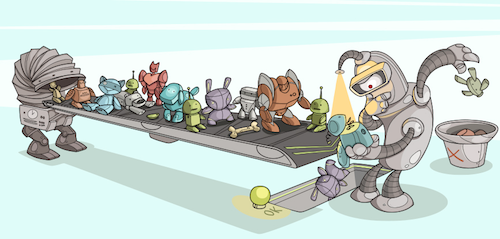 Corel, the company behind CorelDraw graphics software have a collection of tutorials and tips to get you started with this application. Starting from the beginner level and with some tutorials covering slightly more advanced topics of vector graphics and design this is a good place to begin your journey as new CorelDraw user.
Despite somewhat challenging name this web site has many useful tutorials for CorwlDraw beginner users. Each tutorial concludes with example project files which means that you are building your library, portfolio and the knowledge all together. Recommended for all vector design beginners.
CorelHouse is a website dedicated to CorelDraw software with tutorials, tips and collection of macros to extend the core application functionality. Here you will find tutorials about how to create good CorelDraw project structure and how to utilize specific toolbar tools. There is a download section where you'll find several free elements to improve your vector projects.
Simple CorelDraw tutorial for beginners. Nicely structured into steps and categories ranging from document setup, creating basic shapes and forms to preparing for printing and exporting finished project to a required file format.
In 8 years web design agency Entheosweb has collected several detailed and easy to follow tutorials for creating vector images with CorelDraw application. They range from creating multiple web and mobile web layouts to creating logos, cards and creative text examples.
Creative Hat blog has very detailed and nicely created tutorial for designing vector image of mobile (smart) phone with the help of CorelDraw application. Each step is outlined, print screened and well documented. After finishing this vector graphics tutorial you will have nice designed mobile vector example under your belt. Go and check it out!
Delivered by Th3techies these video tutorials are very popular online with close to one million views across all of them. They start with very basics, summarizing main tools pallet available for CorelDraw users, how to combine them in order to achieve the best results. As you progress with the tutorials authors introduce more complex combinations and tricks so you can create advanced vector graphics using Corel software.
Advanced Artist web site is run by Thomas Knight, who started to share his CorelDraw knowledge in 2006. Over the years collection of free video tutorials dedicated to vector graphics and design grew to 21 video pieces and over 5 hours of continuous tips and tricks how to build CorelDraw knowledge to the next level.