We have recently started web product review posts on Enfew blog. We are reviewing interesting and useful web and mobile web tools. Last time we wrote a review of a great project management tool Trello and this is time for another post in this category. We want to get a quick look at Proto.io mobile prototyping application. Having tested it ourselves we think its a great tool for anyone involved with creating application prototypes.
What is Proto.io?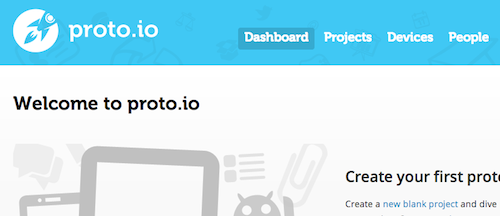 Proto.io is a tool for prototyping mobile interface designs. It makes it easy to create quick prototypes of mobile application you want to create in order to show it to potential clients or technical application developers in order to estimate costs and time required to create a full version of app. There is no coding required as everything in this tool works on drag and drop basis.
We found quite interesting that this application can also export HTML version of your prototypes (that's only accessible to paid customers). And Proto.io has a free plan for everyone to try it. Lets investigate it closer.
How to start?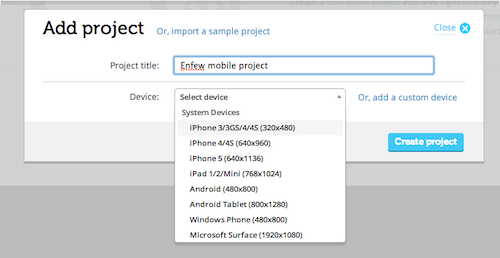 In order to start you have to create a free account, verify address and start your first project. Name your first Proto.io project, select what mobile device you want to prototype on and hit create. Notice that you have nice list of mobile devices and can even add your own custom one with custom screen dimensions.
The project editor has many mobile interface elements available, user has just drag and drop them onto the mobile device screen. Its possible to customize size, colors and state for each of elements. User can set many screens, create transition from one mobile screen to another.
What else is good about it?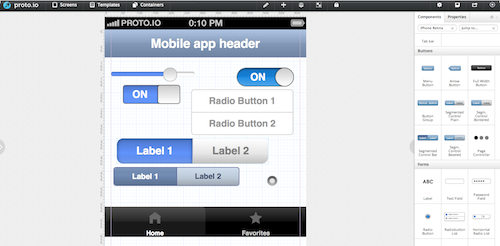 Prototyping is a quick and not expensive way to create sample mobile applications (we wrote about prototyping tutorials earlier) and verify them with clients and partners. Proto.io looks like one of the best options available at the moment, it exports working sample apps which then can be run on actual mobile devices. And we found this tool to be useful.
Have you tried to use Proto.io for your projects? Let us know your experiences and feedback in comments.