Check out this list of City Simulator games for iPad we found for you. If we missed a game let us know in comments and we edit this post to make this list better.
1. SimCity™ Deluxe for iPad By Electronic Arts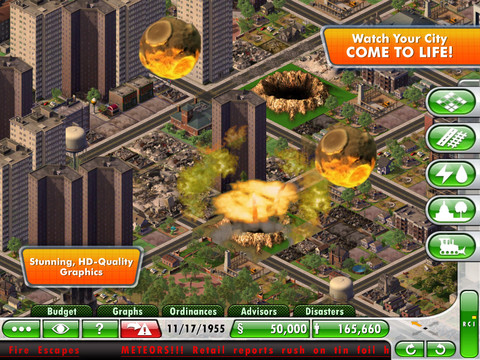 BUILD AND MANAGE YOUR DREAM CITY! FOR THE FIRST TIME ON iPADTM! Made for dedicated and casual players alike, let your inner urban planner run wild with the world's favorite city building simulation. As Mayor and City Planner, take delight in the immersive visuals, the bigger display, and responsive touch controls – all designed just for the SimCity™ Deluxe experience on iPad!
Dream bigger. Build a bustling metropolis from over 100 unique buildings and decorations. Watch your citizens roam your city's streets and helicopters soar through its skies. Then share your unique creation with your friends.
Build YOUR city from over 100 unique buildings and decorations.
Easily redesign your city at any time.
It's a living city with sunbathers, weight lifters and skater punks wandering your streets. New citizens are added with each new building you construct.
Be a manufacturing tycoon: Make everything from videogames to mobile homes in your factories.
Create a world class city: conduct research to unlock special buildings like modern art museums and courthouses.
Share your city with your friends to earn extra coins and XP.
Collect the coveted Dragon Crystals to power up your city with magic, then bring your foes to their knees!
Build a legendary kingdom and compete against hundreds of other players in a real-time quest for realm domination! In this massively-multiplayer, city-building strategy game, you will follow three different quest lines, form alliances and wage war using careful combinations of military, resource and technology units. Play against friends and others, chat in realtime, and watch your gorgeous city expand under intricate day-night cycles with dynamic particle effects and lush graphics.
Welcome to City Story™ where you and your friends can create the world based on your imagination. Build and decorate your own dream city with cafes, boutiques, bakeries, hotels, and landmarks. Watch your population skyrocket as you create the ultimate living, breathing city.
Welcome to Millionaire City, where you can become a powerhouse CEO and watch the money roll in all from the convenience of your iPhone or iPod touch. Build your monopoly from the ground up by creating luxurious houses, crowded commercial skyscrapers, gorgeous decorations and unique world wonders.
Build the city of your dream – a residential paradise or an industrial center. Build dwelling houses and industrial buildings. Produce goods and deliver them to the shopping malls. Setup mass-transit system to take your citizens to places like parks, cinemas and stadiums. Make your city a better place to live by recycling garbage, adding hospitals and fire stations, planting trees, and upgrading buildings to make them more eco-friendly. Make citizens happier by launching spectacular public events. Trade with neighboring cities and accomplish the construction of landmark buildings like Marina, Train Depot, and Spaceship Launch Pad. Help troubled cities get back to prosperity, deal with economic downturn, population crisis, and consequences of natural disasters. Achieve balance between key parameters of your success: Time, Income, Environment, Population, and Happiness. Play over 50 challenging levels, and unleash your inner mayor in Free Play mode on 5 large sand box maps.
Welcome to the all new We Rule Quests. Complete quests to earn sweet rewards, such as exclusive kingdom decor, XP and Coins. New quests added weekly!
You can also check our list of Best Drawing Apps for iPad.