New Torrent Clients That Are Definitely Worth Trying
Aria2
aria2 is a lightweight multi-protocol & multi-source, cross platform download utility operated in command-line. It supports HTTP/HTTPS, FTP, BitTorrent and Metalink.
aria2 has built-in XML-RPC interface. You can manipulate aria2 via XML-RPC interface.
Queuing and downloading of multiple torrents. (Starting, stopping, pausing, queue up, queue down etc)
Real-time list of peer addresses and their statistics. Reverse DNS toggle-able.
Advanced Progress bar graphically illustrates which pieces of the file have been downloaded.
A graph to display upload and download rates over time. Each torrent being downloaded has it's own graph record.
Optional Web Interface for remote adminstration.
Friends Priority System. Friends IP address can be set to get upload preference if they are downloading the same file.
Temporary upload priority can be given to peers by right clicking them in the list.
Peers can be banned by right clicking them in the list.
With torrents that contain multiple files:"Fast Resume" capability.Detailed message view for statistics and error reporting.
System tray icon graphically displays upload download statistics.
Peer list view can identify and display what client the peer is using. (Azureus, Shadow, and other clients that identify themselves uniquely)
Can be set to use user customizable folders for storing torrent and incoming files.
User customizable automatic stopping criteria. Torrents can be set to stop:User customizable upload choker (the choker determines which peer you upload to):
User customizable color settings to change look and feel.
User customizable global upload rate.
User customizable upload behavior (upload rate / number of uploads)
User customizable listening ports, ip bindings
Multi-Tracker support
Utilizes the Bittorrent 3.4.1a code-base
Written in Python. Utilizes wxWidgets.
Overview
ABC is an improved client for the Bittorrent peer-to-peer file distribution solution. ABC is based on BitTornado which extended from from Original Bittorrent Core System , coded by Bram Cohen.
Features
Multiple downloads in a single window
Queueing system with priority
Ability to customize the information ABC displays
Supporing pause, stop, resume, queue, remove operations
Minimize to taskbar (and/or system tray)
Displaying torrent details
Supporting global setting such as upload and download limiting
Supporting local setting for each torrent as well
Supporting advanced settings from BitTornado
Supporting BitTornado's super-seed mode
Choosable upload options when download is done [unlimited, timer, sharesize]
Supporting manual adding torrent from both file and url
Supporting automatic adding torrent from url (when you click on .torrent file)
Displaying number of real peer, seed on tracker (for tracker that supports scrape data)
Supporing add, delete, queue, pause, stop, resume and query current torrent status via Web Interface
Deluge is a full-featured BitTorrent client for Linux, OS X, Unix and Windows. It uses libtorrent in it's backend and features multiple user-interfaces including: GTK+, web and console. It has been designed using the client server model with a daemon process that handles all the bittorrent activity. The Deluge daemon is able to run on headless machines with the user-interfaces being able to connect remotely from any platform.
Deluge features a rich plugin collection; in fact, most of Deluge's functionality is available in the form of plugins.
Deluge was created with the intention of being lightweight and unobtrusive. It is our belief that downloading shouldn't be the primary task on your computer and therefore shouldn't monopolize system resources.
Deluge is not designed for any one desktop environment and will work just fine in GNOME, KDE, XFCE and others. We do our best to adhere to the freedesktop standards.
Deluge is Free Software and is licensed under the GNU General Public License.
Keyword search – Through our improved search functionality you search in content of other Tribler users, and in content of big video web portals such as Youtube and Liveleak.
Browse in different categories – You can browse through different categories as video, audio, pictures, etc. You can also see what is most popular and what is made available recently. All these functionalities will definitely help you in finding something you like.
See what friends and taste neighbors like– By making friends and getting in touch with users with similar taste you can find content that you might find interesting. You yourself can also show to your friends what you like and what they definitely should see.
2. Consume content – Because of the integrated video and audio player you can almost immediately start watching your favorite video(s) or listen to your favorite song(s).
3. Share content– Tribler is a social application. This means you can make friends with other users and you can show to everyone what you like and dislike. And by sharing your content you also help other Tribler users to enjoy their favorite content.
Halite (named after the mineral) is a C++ BitTorrent client based on the excellent libtorrent library from Rasterbar Software. The program also relies heavily on the Boost libraries. While still at an early state of development Halite is a functional BitTorrent client. So far its list of features is pretty standard but that is because I want to ensure it does the basic stuff well.
BitTyrant is a new, protocol compatible BitTorrent client that is optimized for fast download performance. BitTyrant is…
Fast – During evaluation testing on more than 100 real BitTorrent swarms, BitTyrant provided an average 70% download performance increase when compared to the existing Azureus 2.5 implementation, with some downloads finishing more than three times as quickly.
Fair – BitTorrent was designed with incentives in mind: if a user is downloading at 30 KBps, they should upload at 30 KBps. However, due to the unique workload properties of many real-world swarms, this is not always enforced. BitTyrant is designed to make efficient use of your scarce upload bandwidth, rewarding those users whose upload allocations are fair and only allocating excess capacity to other users.
Familiar – BitTyrant is based on modifications to Azureus 2.5, currently the most popular BitTorrent client. All of our changes are under the hood. You'll find the GUI identical to Azureus, with optional additions to display statistics relevant to BitTyrant's operation.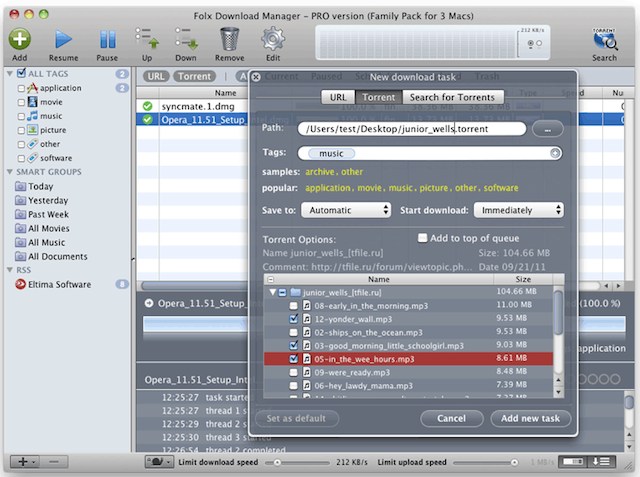 Folx is simple and has intuitive user interface, customizable download options. Pro version of this software has inbuilt torrent search functionality.