5 Awesome Online Radio Apps For iPad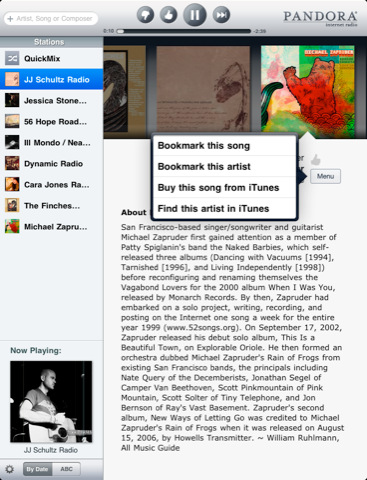 Here are the five top Radio application for iPad.  All the apps shown below are Free (except one).
Pandora Radio is your own free personalized radio now available to stream music on your iPhone or iPad. Just start with the name of one of your favorite artists, songs or classical composers and Pandora will create a "station" that plays their music and more music like it.
2. Planet Radio 2.0 By RADIO / TELE FFH GmbH & Co. Betriebs-KG
Planet more music radio – your radio station with the hottest music for hesse. 24/7 only the best of hip hop, r n' b, pop, dance and rock. start your day with morning man matze & doppel desi, enjoy your time with dani around noon. in the night the planet radio resident dj's play the finest in black beats, dj beats, original beats and nightwax. see www.planetradio.de for more info!

3. AccuRadio By AccuRadio LLC
AccuRadio is a new FREE Internet radio app for the iPhone, iPod touch and iPad that features HUNDREDS of great-sounding, well-programmed music channels — rock, pop, jazz, country, bluegrass, Broadway, reggae, classical music, and more — that you can CUSTOMIZE to your tastes. Now with a new user interface for the iPad!
4. Radio.com By CBS Interactive Music Group
Radio.com on iPad gives you radio you can touch, read and hear. The new Radio.com application makes it easy for you navigate through and engage with an expansive array of high quality content: read the latest on what's happening with your favorite artists or find out what's happening at your local station; follow twitter feeds; watch original videos; listen to podcasts; discover new music and see photo slideshows, all while listening to your favorite music, news or sports radio.
Radio.com brings programming from CBS RADIO, Aol Radio. and Yahoo! Music to the iPad, delivering over 600 of the best music, news and sports radio stations. Complemented by Last.fm Scrobbling, music information and photo galleries, every station is supported by top web producers to deliver relevant and contextual content from stations like KROQ, Live105, WXRT, Alice, WUSN, 92.3Now, and AMP Radio.Built specifically for the iPad, radio.com improves internet radio by providing a fun and compelling experience to simply access what you want and expose you to what you didn't know you needed.
5. Wunder Radio By Weather Underground
The best web radio hub around" – Rolling Stone
– Listen to over fifty thousand radio stations and on-demand shows with WunderRadio.
– "WunderRadio: Best radio in App Store. Period" – Scott Kleinberg, Chicago Tribune